Fulton Child Care Centre is pleased to present this preventive community program for children 0-6 years of age and their families. The program provides families with support and opportunities that are necessary for healthy child development and that positively impact the family's ability to resolve related issues. The program works on strengthening the bond between child and parent. It also offers support for parents to feel less isolated by providing opportunities to network with other families and to share their stories and ideas in a social setting.
These programs and workshops are for families, stay-at-home parents with young children, those on maternity and parental leave – anyone caring for infants, toddlers and preschool children. Programs are FREE but registration is required.  For more information on our current programs offered please check the program guide below.   
https://docs.google.com/document/d/1NDMA_WKEZC7Z18242so0k5k6JbSASYt7mJcZI7EBiho/edit?usp=sharing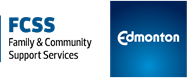 Funding for the Supports & Advantages for Children & Families Program is provided by Family and Community Support Services (FCSS), a joint municipal/provincial partnership working with not-for-profit organizations in Edmonton that deliver preventive social service programs to Edmontonians. Learn more about FCSS.